Obituary for Rollin "Rollie" E. Watters
Rollin "Rollie" E. Watters, 73, of Lake City and formerly of Baxter, went to be with his Lord on Sunday, January 29, 2017 at Shady Oaks Care Center in Lake City surrounded by his loving family. A celebration of life service will be held on Saturday, February 18, 2017 from 2:00 - 5:00 p.m. at the Congregational United Church of Christ in Baxter, Iowa. A private family burial will be held at a later date in the Lake City Cemetery in Lake City, Iowa.

Rollie was born in Lake City to Charles and Mirriam (Ives) Watters. Rollie attended and graduated from Lake City High School in 1961. Following school he attended Northwest Missouri State. He returned to Iowa and joined the family business Watters Appliance in Carroll, Iowa. Rollie married Jeanette Schaffer on May 28, 1967 at the First Baptist Church in Lake City, Iowa. The couple lived in Lake City where they began their family. In 1995 Rollie returned to college and graduated from NE Christian College with a Bachelor's Degree in Theology and then earned his Master's in Theology from Andersonville Theology Seminary. He became the Pastor of the Baxter Congregational United Church of Christ in 1999 and served until 2014 when he retired. Rollie was a member of the Congregational Church of Christ in Baxter, was an Elder at Woodlawn Christian, and was a Boy Scout Leader. He loved the Lord, the Bible, and his family. He also was an avid reader, and loved to talk politics.

Those left to cherish his loving memories are his wife Jeanette of Lake City; children Sean (Deanna) Watters of Des Moines, and Ali (Jamie) Sauter of Indianola; grandchildren Braden Watters, Kalli Watters, Peyton Watters, Teegan Sauter, and Adelyn Sauter; brothers Dennis (Bonnie) Watters of Iowa City, and Terry (Bev) Watters of Lake City; sister-in-law's Bonnie Watters of Lake City, Charlotte (Rod) Hart of Yetter, Chris (Dean) Heim of Lake City; and Minnie (Tim) Hustler of Lake City; and many nieces, nephews, and close friends.

Rollie was preceded in death by his parents, brother Reginald, father-in-law John Schaffer, and mother-in-law Helen Schaffer.

Memorial contributions may be directed to the Shriner's Hospital, St. Jude's Hospital, In Touch Ministries, or Baxter Congregational United Church of Christ.

From dust I came and to dust I have been graciously returned. My final wishes were for you to celebrate my life with simplicity. I lived my life as a modest and humble man. Dates, times, and facts at this point make no difference to me anymore. I want you to know that I was thoroughly prepared for this glorious day.
The accomplishments that were most important to me were Jeanette, my children and their spouses, my loving grandchildren, and my faith and love for serving the Lord for over fifteen years, to the best of my ability. I could only pray that my efforts were good enough.
When I retired, it did not take me long to realize in my journey, that it is only a few steps from the pulpit to the pew. From being a Pastor, to being a former Pastor. It felt like a marathon that you crawl on your knees. It was a lost and lonely feeling. Along the course of retirement the streets along the way seemed like those of a ghost town. People do not line up to cheer you on. It is a race that can seem like defeat, and too often concludes in despair. While on the other hand, the course of a minister is very busy, demanding, times of joy, times littered with losses, crumpled relationships, trashed reputations, and dreams stuffed in the garbage. Once the race is over, and he who once stood on the pulpit, now sets and stares at it. Chances are that he is a changed man forever. No one makes the journey from the pulpit to the pew without leaving behind more than a clerical robe or title. He leaves his heart. That is exactly what I did when I left my church family in Baxter. I truly knew the madness and the grief of this marathon.
I knew that the words from my mouth was the bread from heaven needed in the struggle to give strength to believers. I did my best to guide the lambs of Christ's flock. I hope they never give up. Babe Ruth said, "It is hard to beat a person that never gives up." Remember my teachings: pain is part of growing. Everything in life is temporary. Worrying and complaining changes nothing. Our scars are symbols of strength. Every little struggle is a step forward. What is meant to be will eventually be. And the best thing you can do is keep going.
I have not left you.

I am simply enjoying the next stage of my life.
So please, do not cry.
Rejoice in the fact that I am happy.
And smile because one day we shall meet again.

Now celebrate MY life and thank you for being part of it...
With all my love,
Pastor Rollie

Fredregill Family Funeral Home, in Baxter, has been entrusted with the care of Rollie and his family.
To send flowers or a remembrance gift to the family of Rollin "Rollie" E. Watters, please visit our Tribute Store.
Previous Events
Visitation
Congregational United Church of Christ
218 Sout Main Street
Baxter, IA 50028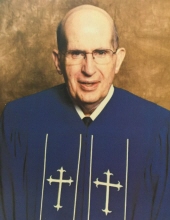 Thank you for sharing your
memory of Rollin "Rollie"
Provide comfort by sending fresh
flowers from our local florist.
No thanks, please don't show me this again.